February 24th, 2011 | Published in Reviews
Brave new worlds on display at SXSW Film Conference and Fest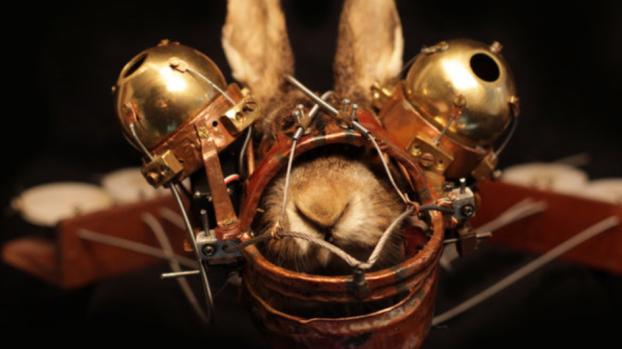 While pondering a thematic thread among the 49 documentaries at the 2011 South by Southwest (SXSW) Film Conference and Festival, one word persistently pops out of the programmers' mouths: "obsessive."
From an in-depth look at molecular gastronomy in El Bulli – Cooking In Progress, to a probing account of cult musician Genesis Breyer P-Orridge and his wife Lady Jaye in The Ballad of Genesis and Lady Jaye and a portrait of a Portuguese artist who combines animal bones with robotics in CONVENTO (pictured), the films' overall obsessive nature pay appropriate homage to the niche subjects at the heart of many of SXSW's documentary offerings this year.
"Last year, it was very clear to us that we had extremely personal, intimate docs that took on the universal," says film festival producer Janet Pierson.  "It doesn't feel the same this year. [This year] these are worlds that we're being invited into: they talk about persona, they talk about obsession and they talk about inventing yourself."
Pierson is avoiding discussing the eight documentaries screening in competition for fear of biasing the judges (read a run-down of the docs screening in competition here), but calls director Jarred Altermann's Emerging Visions film CONVENTO a personal favorite because of its unusual subject matter and strong sense of place. Another one is director Jeanie Finlay's Sound It Out, a small documentary screening in the 24 Beats Per Second program about the obsessive music fans that work and hang out at the last record store in the Northeastern English town of Teesside.
SXSW's program has earned a reputation for providing cinema-goers with snapshots of America's cultural zeitgeist. Its world and North American premieres are often thematically relevant to attendees of its associated interactive and music conferences, complemented by buzzed-about docs and narrative features from Sundance, Toronto and International Documentary Films Festival Amsterdam (IDFA). But until a couple of years ago, the festival has been light on international fare.
"2008 was the first year that we started making a point of getting some of the best international documentaries," says Pierson. "Before, one or two would come in but we've made a concerted effort to have a whole section where we would pay attention. That's been a nice area of growth."
Highlights from this year's SXGlobal program includes director Janus Metz's Cannes-winning Afghanistan war doc Armadillo; IDFA DocLab presents: New Documentary Narratives, a special live cinema screening of transmedia documentaries hosted by IDFA's new media coordinator Caspar Sonnen, and director Gillian Wearing's Self Made, a personal favorite of programmer Jim Kolmar for the way it uses method acting as a tool for self-examination.
"It's quite fascinating to see these people pick apart their own personalities and dissect them. It's like self-analysis in a way," he says. "There's something really visceral about seeing people have those moments of realization and present them to you on camera."
This year's film conference will feature around 100 panels and marks the second year of use for SXSW's "panel picker"– a crowdsourcing application that allows speakers to submit panel ideas that attendees can vote on.  "Last year it was new and we weren't really ready but this year it worked," says Pierson.
While the usual discussions about emerging technologies and equipment, transmedia production, new financing models and branded entertainment made the cut, so did a few offbeat – and obsessive – subjects, namely Maker's of Geek Documentaries: A Nerd's Life and "Did You Kill Anyone?" Reality In War Movies.
Compared with the Interactive conference's 800 panels, the film conference is a more modest affair with around 100 panels. And although the interactive side has cornered most of the transmedia-themed panels, this year both film and interactive delegates will have access to a shared room to take in select presentations relevant to both disciplines.
If the interactive attendees aren't too busy comparing Google and Bing's website rankings or dissecting advanced integrations of social media analytics, Pierson and Kolmar suggest taking in a film screening or two. They might even catch a glimpse of themselves in Andrew Rossi's doc Page One: A Year Inside the New York Times, which includes footage from media columnist David Carr's 2010 SXSW panel. SXGlobal selection Presspauseplay examines how the explosion in digital creativity has had a democratizing effect on musicians and filmmakers, while Something Ventured profiles the venture capitalists behind the world's biggest tech companies, such as Cisco and Intel.
In terms of music-related films, the 24 Beats Per Second program features high-profile docs on Foo Fighters, Le Tigre, Ron Sexsmith and legendary British label Creation Records. One film that stood apart, Pierson says, was a tour film about John Mellencamp shot largely on Super 8.
Screening in the Spotlight Premieres program, "It's About You" was co-directed by photographer and visual artist Kurt Markus and his son Ian and follows the veteran rocker during his summer 2009 tour with Bob Dylan.
"The diretor's got an incredible eye but uses it in a different way," Pierson says. "He's somebody who's never done this before and it's really, really intimate, it's fabulous looking and it's just different. We get all these touring films and they all kind of look the same."
For the complete list of films and panels, visit the 2011 SXSW website.